Umbraco and elmah.io are new best friends
---
This post has been adapted as part of our official documentation. To read the most updated version, please check out Logging from Umbraco
elmah.io want to support every major web and app framework for .NET. In this post I will show you how to log data from Umbraco CMS into your elmah.io log, using a recent addition to the family of integrations. To check out some of our features specific for Umbraco, check out the elmah.io in Umbraco features page.
Since Umbraco itself is written in ASP.NET, ELMAH works like a dream inside Umbraco. Besides logging uncaught errors, elmah.io also supports other types of messages like information and debug. In fact all of the log levels that you already know from log4net, NLog and Serilog, are supported on elmah.io as well. Logging in Umbraco CMS is based on log4net, which elmah.io also support. We have brought all these pieces together into a NuGet package that we call: elmah.io.umbraco.
To start utilizing elmah.io from your Umbraco site, all you need to do is install the elmah.io.umbraco package:
Install-Package elmah.io.umbraco

Hit F5 and watch messages start flowing into elmah.io: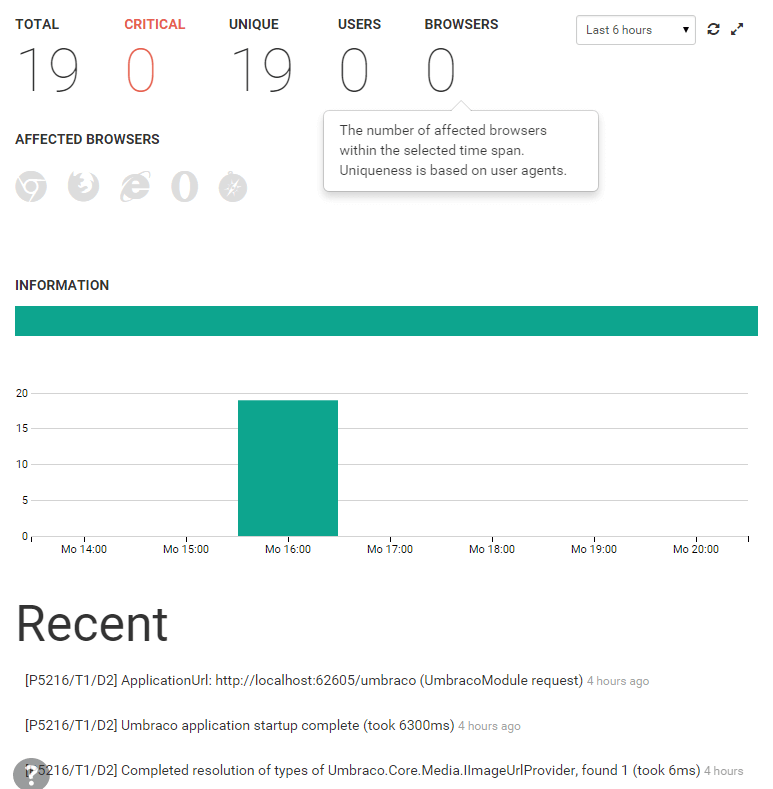 Like the elmah.io package, the install process asks you for your log id and everything is setup automatically. Installing the elmah.io.umbraco package modifies your website in three ways:
Installs ELMAH to log uncatch errors on your site.
Modifies your log4net configuration to log messages through log4net in elmah.io.
Installs an ApplicationEventHandler into Umbraco, logging 404's.
This post was brought to you by the elmah.io team. elmah.io is the best error management system for .NET web applications. We monitor your website, alert you when errors start happening and help you fix errors fast.
Comments
---